Ofsted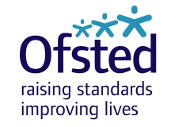 The Office for Standards in Education (OFSTED), officially the Office of Her Majesty's Chief Inspector of Schools in England, was set up on 1 September 1992. It is a non-ministerial government department, independent from the Department for Education & Skills.

How primary schools are inspected
Primary schools are inspected by Ofsted between every three and five years. The team of inspectors spends no longer than two days in the school gathering evidence, including observing lessons and speaking to teachers and pupils, to report on how well the school is performing. A school normally receives notice of inspection the day before.

Extracts from the Ofsted Report for Hincliffe Mill J & I School of the 31st January 2007
© Crown Copyright
Overall effectiveness of the school - Good

The headteacher is an exceptional role model who inspires the whole school community.
Children get a good start to school life in Reception where they make good progress.
Attainment at the end of Key Stage 1 is well above average in reading, writing and mathematics. This represents outstanding progress form the pupils' starting points.
In Key Stage 2 the children continue to make good progress. They attain above average standards in national tests at the end of Year 6 and are well prepared for the next stage of education.
High expectations and excellent support lead to those pupils who have special educational needs making exceptional progress.
Teaching is good and teachers plan activities that pupils enjoy. Relationships in class are a real strength.
From Reception to Year 6, pupils show a love of books and achieve very high standards in their reading.
Teaching assistants are well trained and provide outstanding support to help pupils with their learning.
Pupils' spiritual, moral, social and cultural development is well catered for.
The headteacher's evaluation of the school is accurate. Development planning is accurately focused on those aspects of the school's work which require improvement and the drive for further improvement is strong.
Governors actively monitor the work of the school and have a clear understanding of its strengths and areas for improvement.

The complete Ofsted report can be viewed by clicking here
Click here for Parent VIew
To read the Ofsted report you require Acrobat Reader®. Click here to download if it is not installed on your computer.